LTC Chris Paine, PhD, LCSW, BCD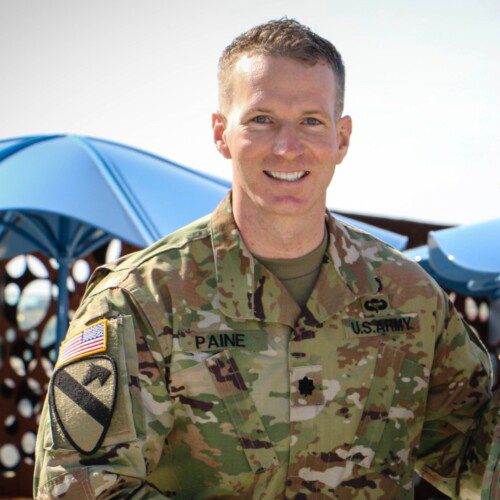 Army Lieutenant Colonel (LTC) Chris Paine, PhD, LCSW, BCD currently serves as the Defense Health Agency (DHA) Central Texas Market Lead, Behavioral Health; Director of Psychological Health at Fort Cavazos, Texas; and Chief of Behavioral Health at Carl R. Darnall Army Medical Center, Fort Cavazos, Texas. LTC Chris Paine is a Co-Investigator and/or On-Site PI on several research projects awarded over $4.5 million. Chris's research interests and publications focus on Community-Based Participation Research with particular interest in firearm suicide prevention. 
Chris has over 19 years of active federal service in the United States Army both a Medical Service Corps Officer and Social Work Officer with three combat deployments. Along with his colleague MAJ JP Hare, LTC Paine was part of the inaugural cohort of the Army -Fayetteville State University Masters of Social Work Program taught at Ft. Sam Houston, TX). Chris received his PhD in Social Work from the University of Texas at Austin. His eclectic clinical approaches include Prolonged Exposure, EMDR, Acceptance Commitment Therapy, and Narrative Therapy interventions. Chris is a recipient of both the Army Medical Department's "9A" Designator – the highest honor bestowed by the Army Surgeon General upon candidates who have attained full professional status and national prominence in their field, and the Order of Military Medical Merit (O2M3) – which recognizes people for distinguished service to the U.S. Army Medical Command.
Additionally, LTC Paine is an Adjunct Professor at The University of Texas, Steve Hicks School of Social Work.