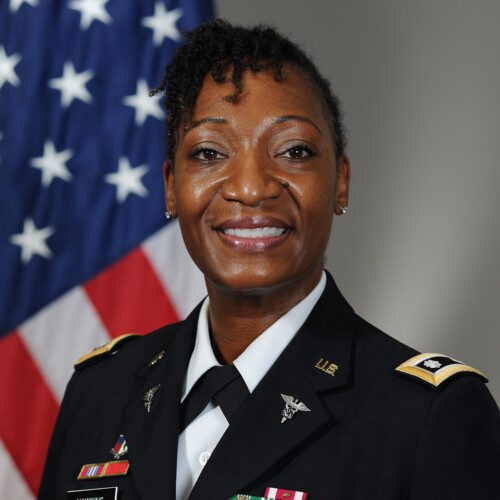 Lataya Hawkins, LCSW-S, PhD, LCSW, BCD, LTC, MS, is a Lieutenant Colonel, in the U.S. Army. She holds a Master of Social Work from University Houston and a PhD in Social Work from the University of Texas at Austin. She is currently stationed at the Medical Center of Excellence, Fort Sam Houston, Texas, where she is an Assistant Professor in the Army-University of Kentucky, MSW Program, and she serves as the Associate Dean for the Army Graduate School.
LTC Hawkins enlisted in the Texas Army National Guard (TXARNG) as a medic in 1990. She later was accepted into the TXARNG OCS program and commissioned as a 2LT Military Intelligence Officer; she was honor graduate of her OCS class.  LTC Hawkins served as a Intel Officer, HHC XO, and Assistant S2.  While serving in the TXARNG she was attending the University of Houston Graduate School of Social Work.  Upon completion of MSW, she directly commissioned into the Army Reserves as a 1LT, Medical Service Corp Officer.  LTC Hawkins served in various positions in the reserves and worked full-time as a LMSW.  She was mobilized for 18 months to Ft. Belvoir for GWOT.  At Ft. Belvoir she served as clinical social worker at Fairfax clinic, Acting Chief, Fairfax Clinic and as a FAP case manager.  After completion of her mobilization, LTC Hawkins was accessed on Active Duty in 2006 and assigned to Walter Reed Army Medical Center as the Chief, FAP.  She was assigned to Camp Casey, Korea as BDE Mental Health Officer. Hawkins was then attended a 2 yr Fellowship at Walter Reed Army Medical Center in Social Work Child and Family Practice.  After the fellowship, she was assigned to Ft. Benning, GA, Martin Army Community Hospital, where she was the Chief, Social Work and then selected to be the Deputy Chief, BH.
LTC Hawkins was the recipient of the Fall 2018-2021 Army LTHET scholarship to pursue her PhD. She served in Operation Iraqi Freedom as a BDE Mental Health Officer, with 2ID, 3rd Stryker BDE from March – September 2007. She has been awarded the following Army awards: The Meritorious Service Medal, the Army Commendation Medal with 3 oak leaf clusters, the Army Achievement Medal, the National Defense Service Medal with one bronze star, Iraqi Campaign Medal, Global War on Terrorism, Korean Defense Service Medal, Armed Forces Reserve Medal, Army Service Ribbon, and Overseas Ribbon. She is married to MAJ Deric J. Hawkins and they have two daughters, Gabrielle and Destinee Hawkins.